Objemné zásilky - RootyRug
Sale ended
RootyRUG KIDS HEDGIE Brown
106.3 €
87.8 € without VAT
Objemné zásilky - RootyRug
---
Description and parameters
RootyRUG KIDS HEDGIE Brown
RootyRUG will bring your feet to life. Its surface is unevenly bumpy and slightly rough to the touch to simulate the natural terrain as closely as possible.
It is suitable for children as well as for adults. It is not slippery nor cold and it is safe, designed to be used for exercising or walking barefoot or with socks. RootyRUG provides a great assistance to athletes and rehabilitating patients with orthopedic defects and helps small children to stimulate healthy development of their feet.
Bumps that are designed in the shape of tree roots pleasantly disrupt the stereotype of a traditional flat floor and anyone who loves being barefoot will greatly appreciate it. It is best to place it in the middle of a room, hallway or any other frequently visited place so you can walk over it as often as possible. Lay the rug on a hard and flat surface. On a slippery surface, fix the RootyRUG with a non-slip pad that you receive for free with each package.
RootyRUG can be vacuumed as a regular carpet. If you adhere to the enclosed instructions, you can also clean it with water.
Surface material: polyamide, polypropylene
Maximum load: 120 kg
Designed, patented and made in the Czech Republic.
Parameters
| | |
| --- | --- |
| Features | Made in Czechia |
| Color | Beige |
Brand RootyRUG
RootyRUG - Senzomotorický koberec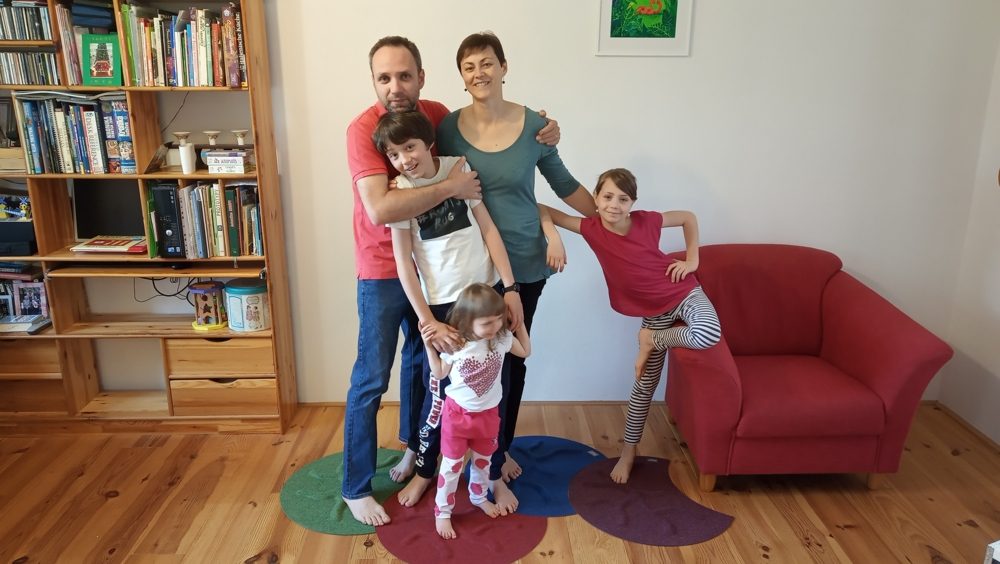 Co o sobě Viktor  RootyRUG říká?
ROOTY vyrábíme na jihu Čech za pomoci vlastní unikátní technologie, ale stále s významným podílem ruční práce. Sami jsme rodiče a chceme zanechat planetu našim dětem v co nejčistším stavu, a proto vyrábíme s extrémně nízkou spotřebou energie, použité materiály jsou výhradně z EU a z 90 % jsou z recyklovaných zdrojů.
Jsme průkopníci v tom, co děláme. Je náročné dělat něco jako první na světě, ale ohlasy našich zákazníků nám potvrzují, že to děláme správně.
Na práci našich lidí jsme velice hrdí, a proto se nebojíme prodávat naše výrobky nejen do Evropy, ale také do zámoří.
RootyRUG je unikátní koberec, který probouzí vaše chodidla k životu. Jeho povrch je nepravidelně hrbolatý a mírně drsný, aby co nejvěrněji simuloval přírodní terén.

Je vhodný pro dětské nožičky i pro dospělé. Neklouže, nestudí, je bezpečný. Je stvořený pro chůzi a cvičení naboso či v ponožkách. Je to perfektní pomocník pro sportovce i rehabilitující pacienty s ortopedickými vadami. Malým dětem pomáhá ke zdravému vývoji nohou. Je používaný a doporučovaný fyzioterapeuty.

Navrženo, patentováno a vyrobeno v ČR.
Jak RootyRUG vidí naBOSo?
Jsme rádi, že v naší republice vzniká takto krásný produkt,
Ceníme si i lokálních dodavatelů, tedy produkt je opravdu šetrný k naší planetě, protože necestuje po celém světě, ale rovnou z české továrny k Vám,
Produkt je velice designový a díky barevné škále si vybere opravu každý,
Má myšlenku, tato senzomotorická pomůcka může tolik pomáhat Vašim nohám.
Hodnocení:
⭐️⭐️⭐️⭐️⭐️ - Nejlepší, Nejširší, Rozumná cena
⭐️ - Nic moc, Úzké, Patří k těm dražším
__________________________________________________________
⭐️⭐️⭐️⭐️⭐️- Kvalita provedení
⭐️⭐️⭐️⭐️⭐️ - Výdrž podrážky
⭐️⭐️⭐️⭐️⭐️ - Vzhled
⭐️⭐️⭐️⭐️⭐️ - Flexibilita
⭐️⭐️⭐️⭐️⭐️ - Váha
⭐️⭐️⭐️⭐️ - Cena