AFFENZAHN
AFFENZAHN SNOWBOOT VEGAN TUKAN Blue Yellow
Accessories: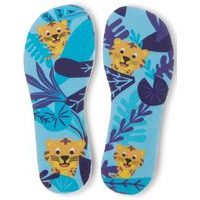 AFFENZAHN INSERT SOLE
7.1 €
Product description
AFFENZAHN SNOWBOOT VEGAN TUKAN Blue Yellow
Children's vegan snowshoes Minimal Snowboot Vegan are designed for winter fun. Thanks to the thin, flexible and non-slip sole, they enable natural walking dynamics and gradual rolling of the foot. The waterproof and breathable Affentex membrane ensures that children's feet will always be dry and warm, regardless of the weather.
for the city and outdoors
vegan and unisex
season: winter
suitable for snow
Fit - wide toe area / ergonomic shape
ergonomic shape
lightweight and flexible shoe
plenty of toe room allows for healthy foot development
elastic lace and Velcro fastening
safety reflective elements
material - recycled nylon/Affentex membrane
Upper: ECONYL®, a 100% regenerated nylon fibre from nylon waste
waterproof and breathable Affentex membrane
lining: 100% recycled polyester
sole: blend of 70% synthetic and 30% natural rubber and with 30% algae (Bloom Foam)
How to care for the shoes?
always brush off coarse dirt first
for increased durability, regularly impregnate your shoes with Carbon Pro spray
How to choose the right size?
Measure your children's foot and add an extra space of 9-12 mm.
Affenzahn Size Chart

EU size
21
22
23
24
25
26
27
28
29
30
31
32
Inner length (mm)
135
143
148
153
162
168
172
180
188
193
198
207
Inner width (mm)
57
58
59
60
62
64
66
68
69
70
70
72
The weight of one size 25 shoe is 134 g.
If you are unsure of the correct size, please stop by our store.
Template for choosing the right size
Print out the template your child will stand on to determine the correct size: 21, 22,23,24,25,26,27,28,29,30,31,32
How to do it?
1 Do you have the right scale? Better measure 3 cm.
2 Fold the printed paper along this line and place it on the floor against the wall.
3 Place your heel here.
4 When your longest toe touches this line, your new shoe fits perfectly!
Blue box: This is where your foot has room to grow.
Purple box: Up to here, your foot has room to move freely.
Tip: Check the correct shoe size regularly.
Functions:
| | |
| --- | --- |
| | 1. Waterproof and breathable: Thanks to the special AffenTex membrane no moisture from outside gets into the shoes and the feet stay dry and warm even after countless snowball fights. |
| | 2. Warm and soft: Barefoot shoes in winter? Sure! Thanks to robust, weatherproof materials and the layer principle with soft lining, your feet stay snug and warm even in snow and ice. |
| | 3. Super lightweight: So light and so comfortable! It might seem like you're not wearing any shoes at all. |
| | 4. Slip-resistant: The honeycomb structure of the Affenzahn sole provides extra support and leaves a great motif in the snow. You will surely win every sled race with it, we promise! |
| | 5. Easy-peasy closure: No more tedious and time-consuming shoe tying! With our quick elastic lacing system and Cord Lock closure the shoes fit perfectly on the foot. |
| | 6. Thin, flexible sole: The sole of the Affenzahn winter shoes is only as thick as necessary. It is not cushioned so that children can feel and perceive their surroundings and the surface. |
| | 7. Right-left distinction:Smart move! Guaranteed to stop duck feet. Just watch out for the animal puzzle in the back and slip into your shoes. |
| | 8. Enough space for growth: The natural shape of the shoes offers enough room for each toe, so that the feet are not constricted and can develop healthily. |
Watch the video
Product parameters
| Parameter | Description |
| --- | --- |
| Gender | Kids |
| Features | Membrane, Recycled, Vegan |
| Use | City, Outdoor |
| Color | Mustard |
| Season | Winter |
| Category | High |