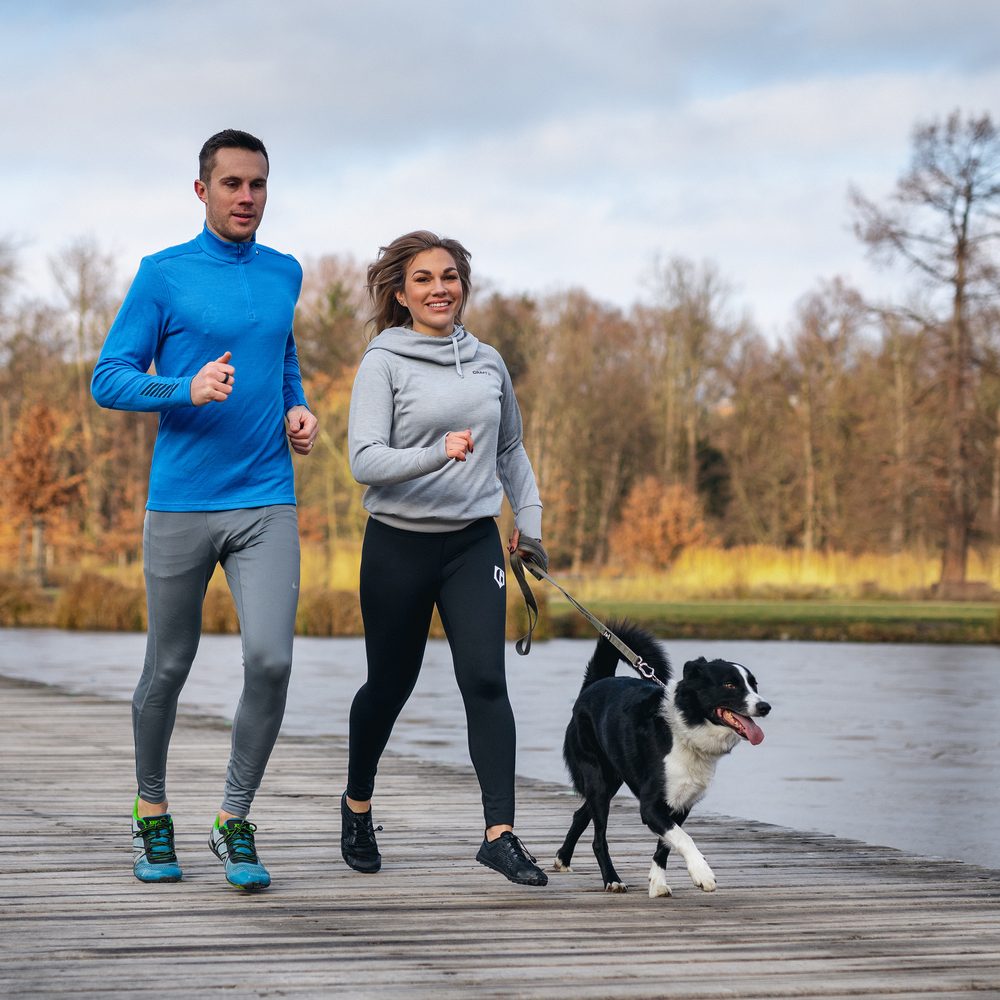 Running and Barefoot: Back to the Roots
Running in barefoot shoes means a return to natural movement. Did you know that it can relieve knee pain, for example? We'll help you make the right choice.
Running is the talk of the town. Today it belongs among the most popular sports hobbies across generations. But every runner would surely confirm that there are more types of running. For example, track running is very much different from a 100metre sprint. And marathons? That's a completely different game. We can say the same thing about the types of surfaces: running is different on asphalt, on a meadow or in the woods. Everything has one thing in common – shoes. We're here to tell you how to choose the ones that will bring you joyful sports experiences.
A Few Running Terms Before You Start
No matter if you're a beginner or an experienced marathon runner, it's always good to be familiar with the technical jargon that often comes up when choosing running shoes. To keep you in the loop, we've picked a few of the most common and important terms you'll surely come across when searching for your future running buddies.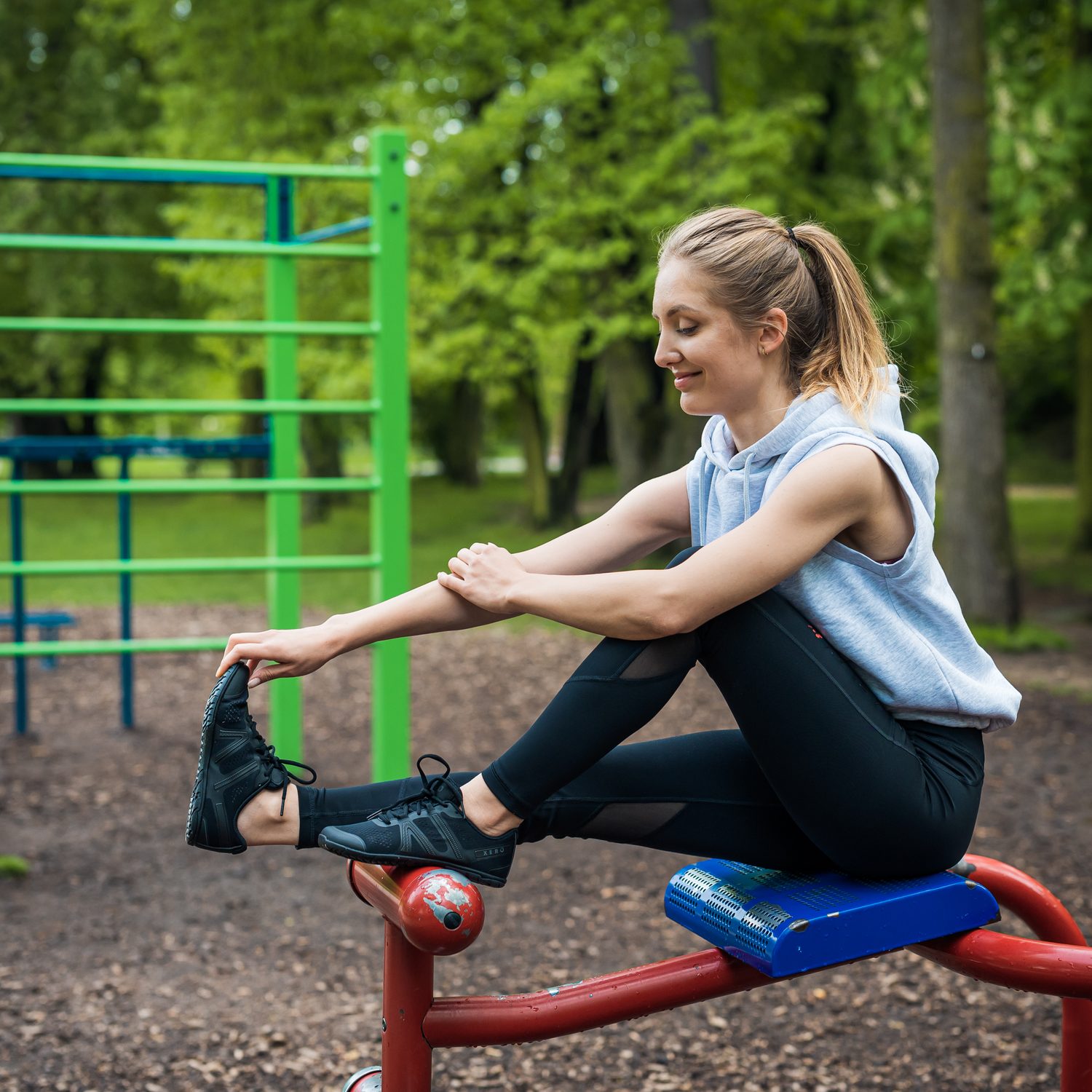 Drop
The height difference in sole between the toe and the heel. Some retailers recommend that running shoes are equipped with it. But in general, the smaller the drop, the more natural the run. You won't find it in barefoot shoes. The drop – just like the heel, however small – directly contradicts all natural habits of the foot. Therefore, all barefoot shoes have a zero drop.
Grip
A grip indicates adhesion on wet and slippery surfaces. They are the lugs on the sole that save you in mud and terrain. Barefoot shoes can't have a significant grip – admit it, it wouldn't be a pleasant walk. For some winter and sport barefoot variants, however, a tiny bit of grip is desirable. You can find it for example in LEGUANO AKTIV or XERO SHOES MESA TRAIL.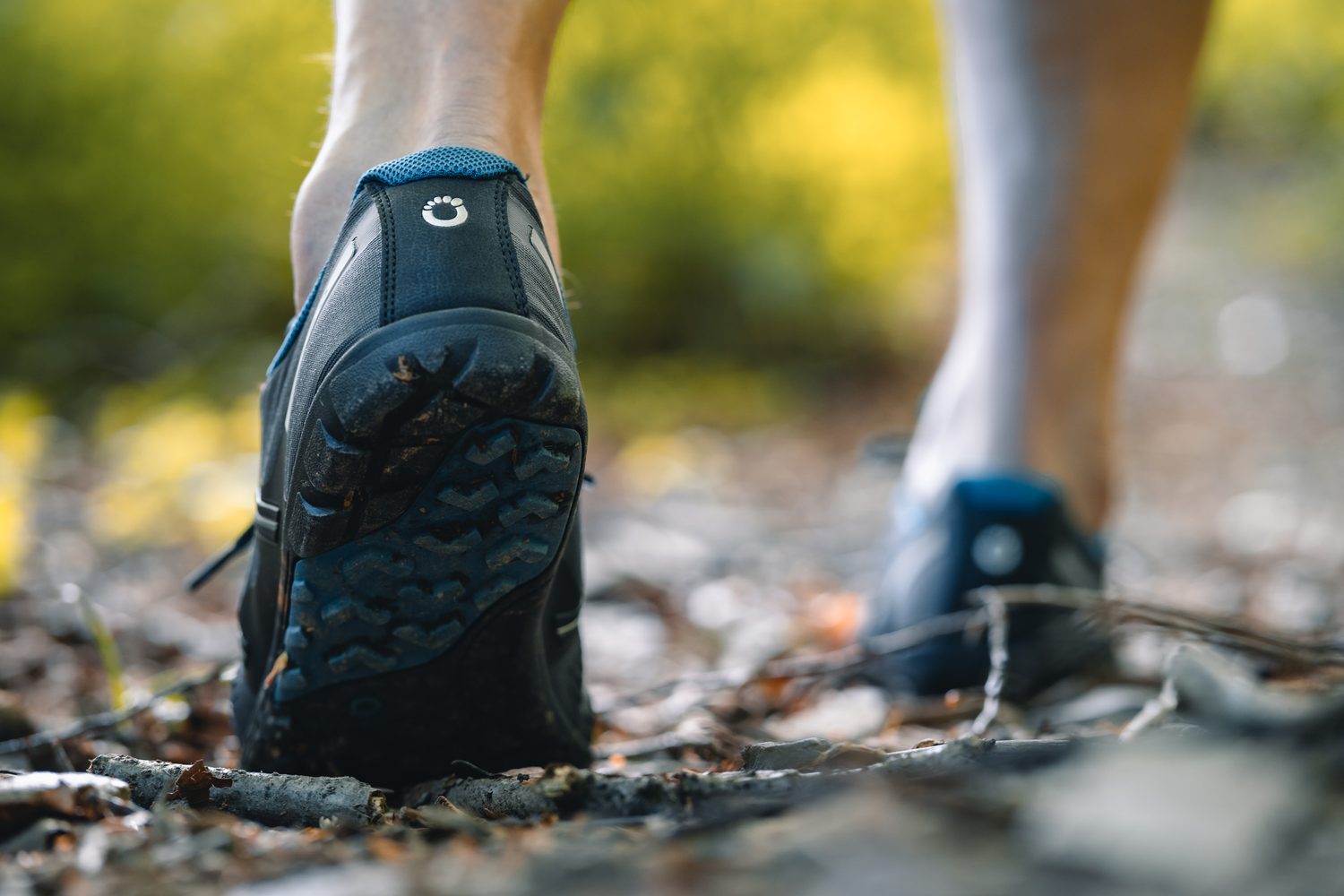 Pronation and Supination
Less known, but very often used terms that come up in shoe selection, are pronation and supination. Both terms refer to footstrike. Pronation means that when walking or running, the person rolls the foot inward during motion; this is also known as X-shaped legs. The shoes are then worn down mostly on the inside. Supination refers to the legendary "bow legs" of soccer players, who roll their feet outward (ankles out) and their shoes are worn down on the outside. Both of these rolling movements may be visible from afar or be just slightly visible and detected only by a specialised diagnosis (or worn-out older shoes).
Proprioception
A purely medical term (sometimes known as kinesthesia) that refers to the sense of the position of your body. In other words, it's the sense that allows you to perceive the motion of your body, what muscles are active and how they work.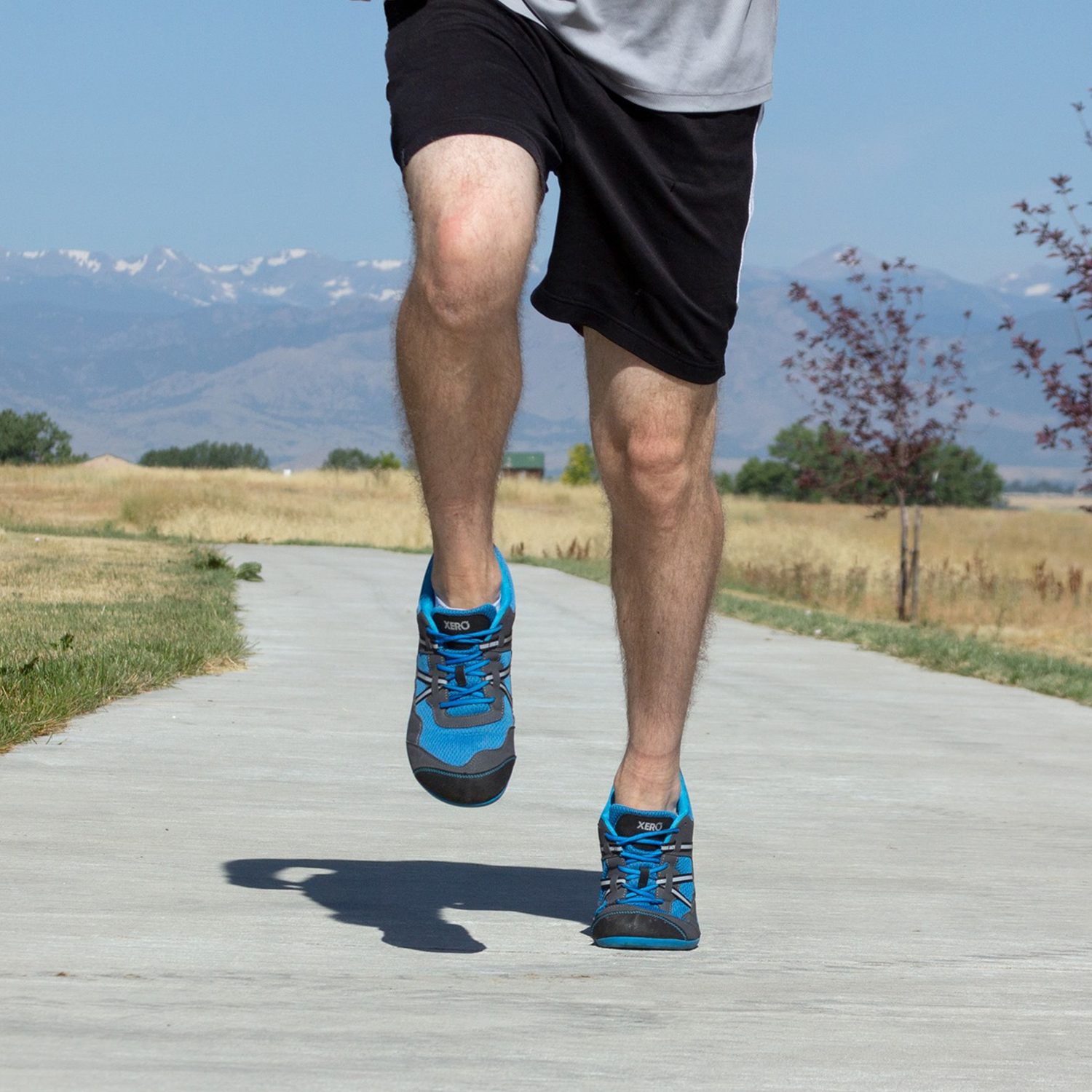 A Right Size, Right Footstrike
How to choose the right size? A tricky question when choosing any type of footwear. We can't avoid it even when selecting running shoes. The key is to measure your feet well. The best way is to trace your foot on paper and measure the longest distance. Add ideally 10 mm so that the foot has enough room to move freely. You can read more about the correct way to measure your foot in the article on how to measure your foot correctly.
As the above-mentioned terms of pronation and supination suggest, the right footstrike is essential in running. And not only because your shoes will wear out. The footstrike impacts potential future pains and health complications such as pain in your calves, knees, hips or spine. Running is a physically demanding activity; our body gets a beating and we are the ones who can influence it.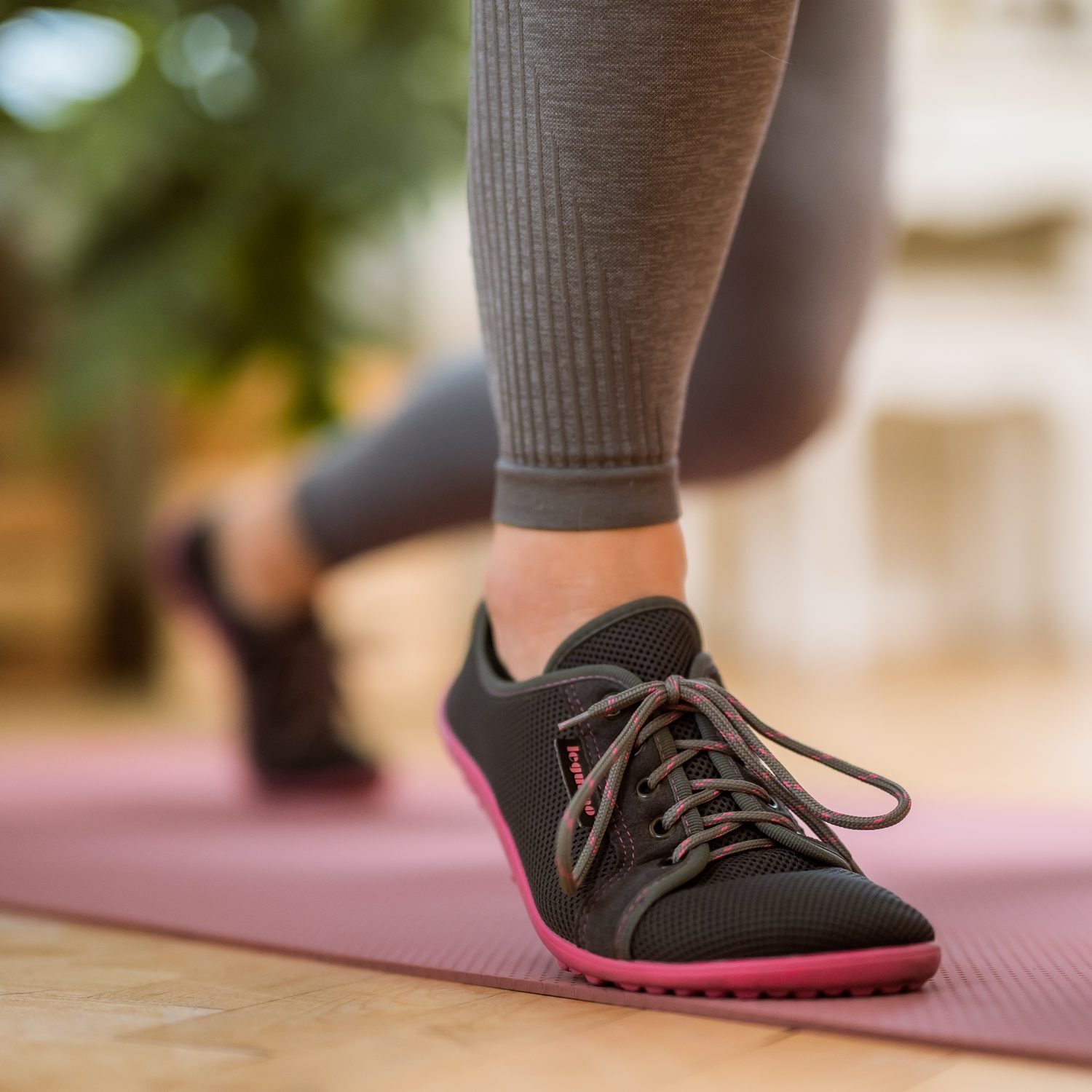 Especially by learning to feel our body, our muscles, and how and where to step. Barefoot shoes are ideal for this. They let you naturally and fully control your feet and the whole body. Don't worry, it's possible, it just takes regular practice – run regularly and try to keep it in your mind.
The naBOSo shop in Prague - Vysočanská 30 is equipped with a treadmill. Take the opportunity to try out the shoes in action to see if they fit you.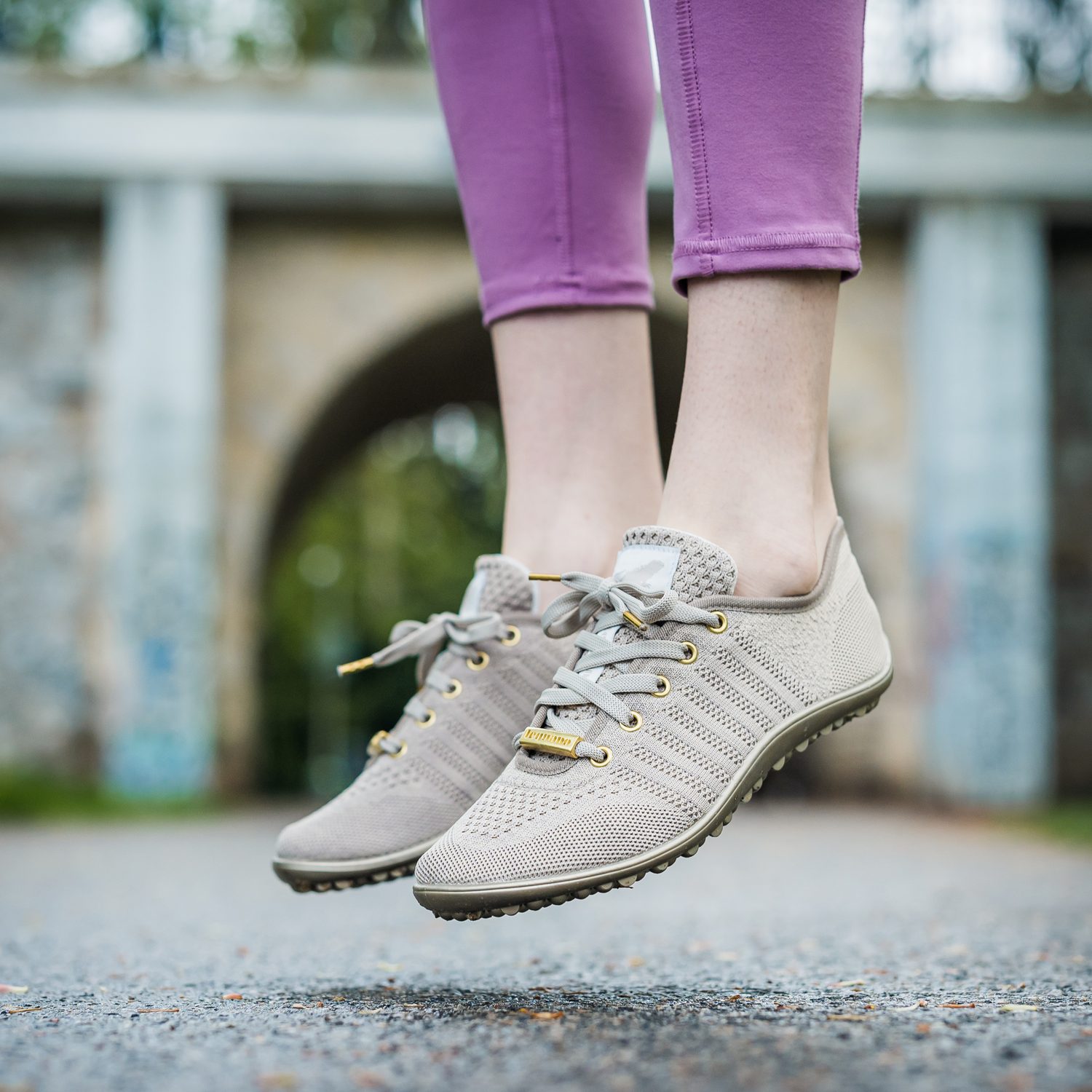 The Underestimated Power of Socks
Who would have thought that such a small thing as a sock could be so important, especially in sports. It's true. Socks act as protectors of the foot, both on the outside and on the inside. They protect your feet from bruises, scratches, ticks, but also from sweat and the not-so-popular blisters. Good functional socks keep the foot dry, keep it warm in winter – and some can provide a nice cooling effect in summer. In the end, socks are a whole lotta science. So choose your sock mid-layer carefully.
Compression socks and knee socks are a completely different topic. If you've ever wondered why those fools run around in knee socks in summer, we'll tell you why. Not only does this fashion accessory tweak your running outfit to perfection, but more importantly, it helps you perform better. It increases blood circulation and reduces muscle shocks on impact, and facilitates faster recovery after exercise.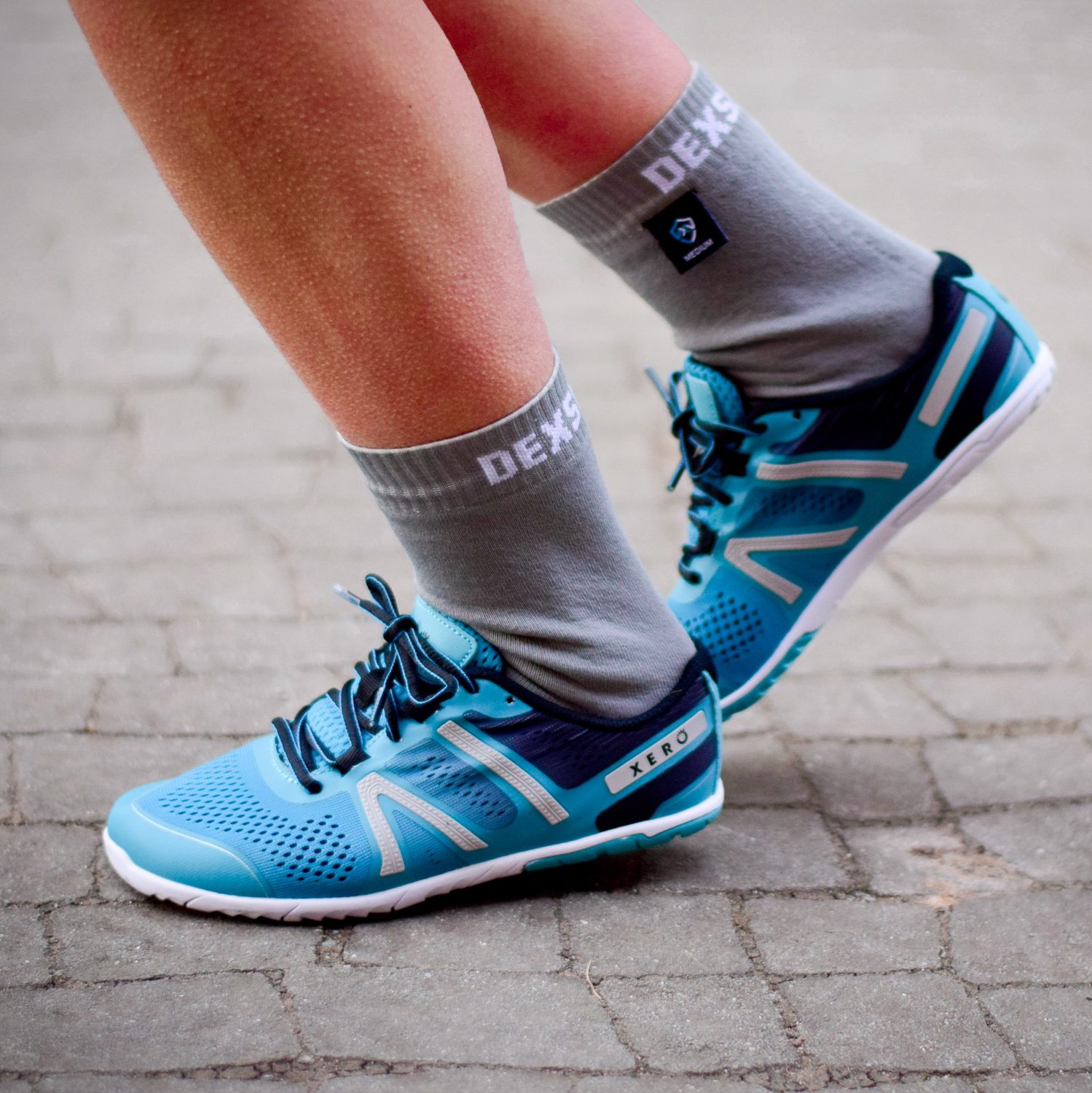 The Attack of Running Barefoot Shoes: Road or Terrain?
Terrain. One of the most important specifications when choosing classic running shoes. And what about barefoot shoes? That problem goes away. Free feet with plenty of room – that's the essence of all barefoot shoes, and along with your confidence, your feet can handle anything, whether it's speed runs, long trails or walks in the woods. It's up to you whether you want to have one pair for all kinds of running, or if you want to wear the XERO SHOES MESA TRAIL for trails and the LEGUANO AKTIV for the road.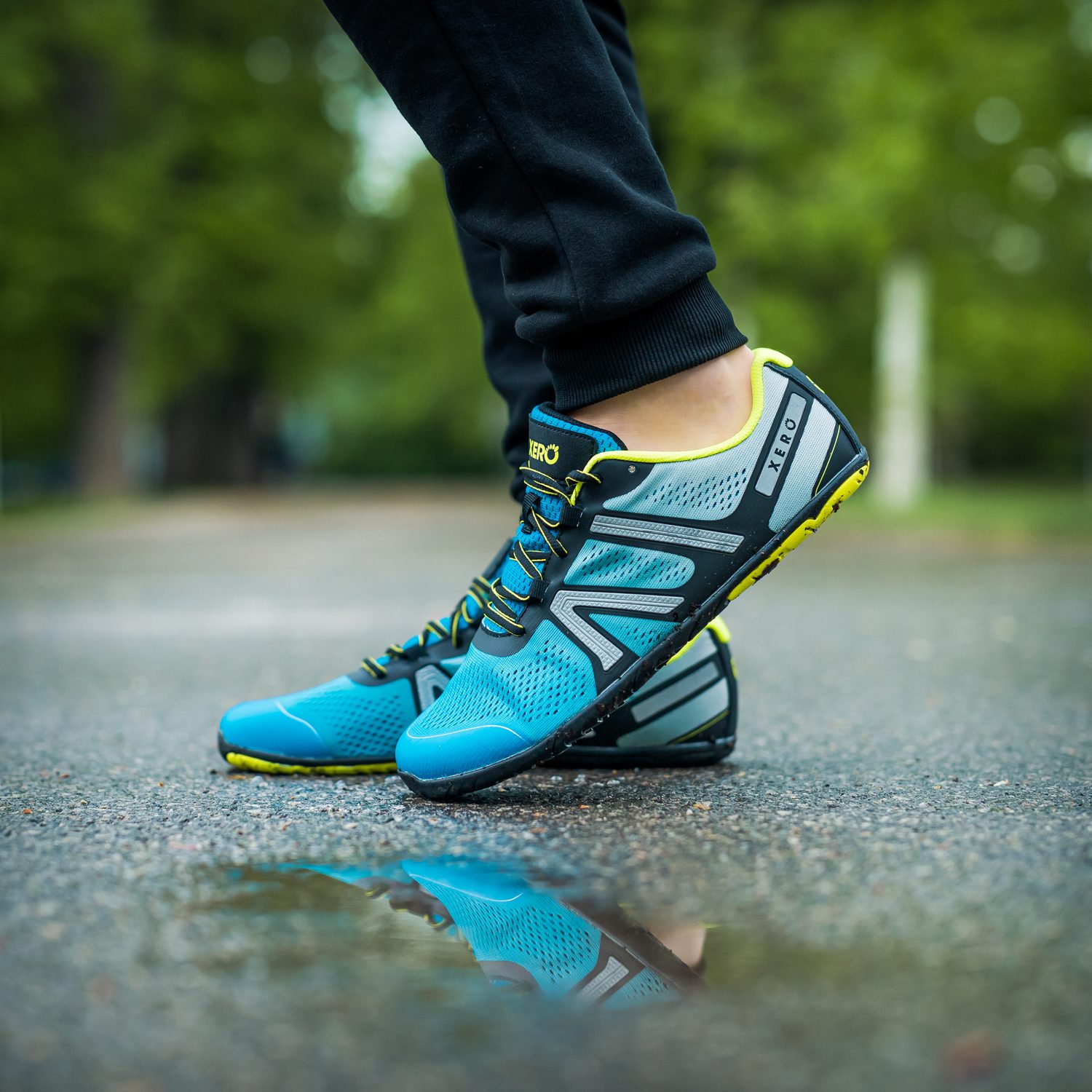 The absolutely leading brand among sports barefoot shoes is XERO, which was actually created by mistake, as its founder, Steven Sashen, explained in an interview with Andrea Součková.
"The Xero Shoes brand has been closely linked to naBOSo from the very beginning – since 2015. We were looking for barefoot sports sandals and discovered Xero. Gradually, they started coming up with new athletic models and now casual; I believe in a few years they will be the leader in the barefoot category," says Andy Součková.
Xero is a best seller definitely because of the technology and the fact that they fit well, they can be tightened. "They have no competition in the performance category. I've tried all athletic barefoot running shoes – and the Xero is the top. I'm sure it's because Steven makes them like he would make them for himself," Andy adds.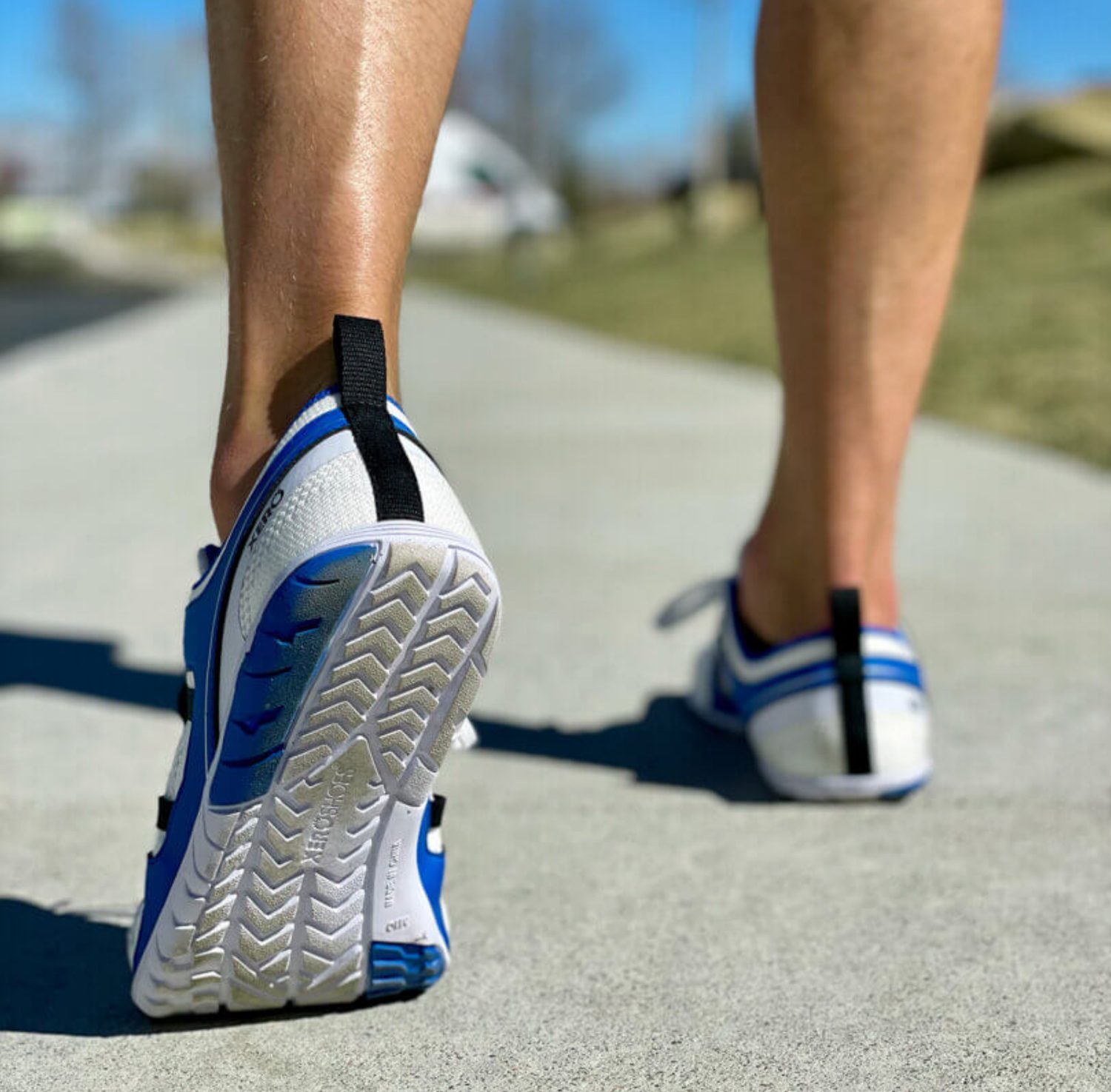 The XERO SHOES SPEED FORCE and XERO SHOES HFS collections are ideal for hard surfaces, they are ultralight and provide ideal room in the toe box. A fresh 2022 shoe is the XERO SHOES ZELEN, a light running sneaker made of recycled and bio-degradable material. Lovers of the smell of the woods and trails will enjoy the XERO SHOES MESA TRAIL collection.
Popular brands such as leguano or Merrell are true classics that will not disappoint you in any situation.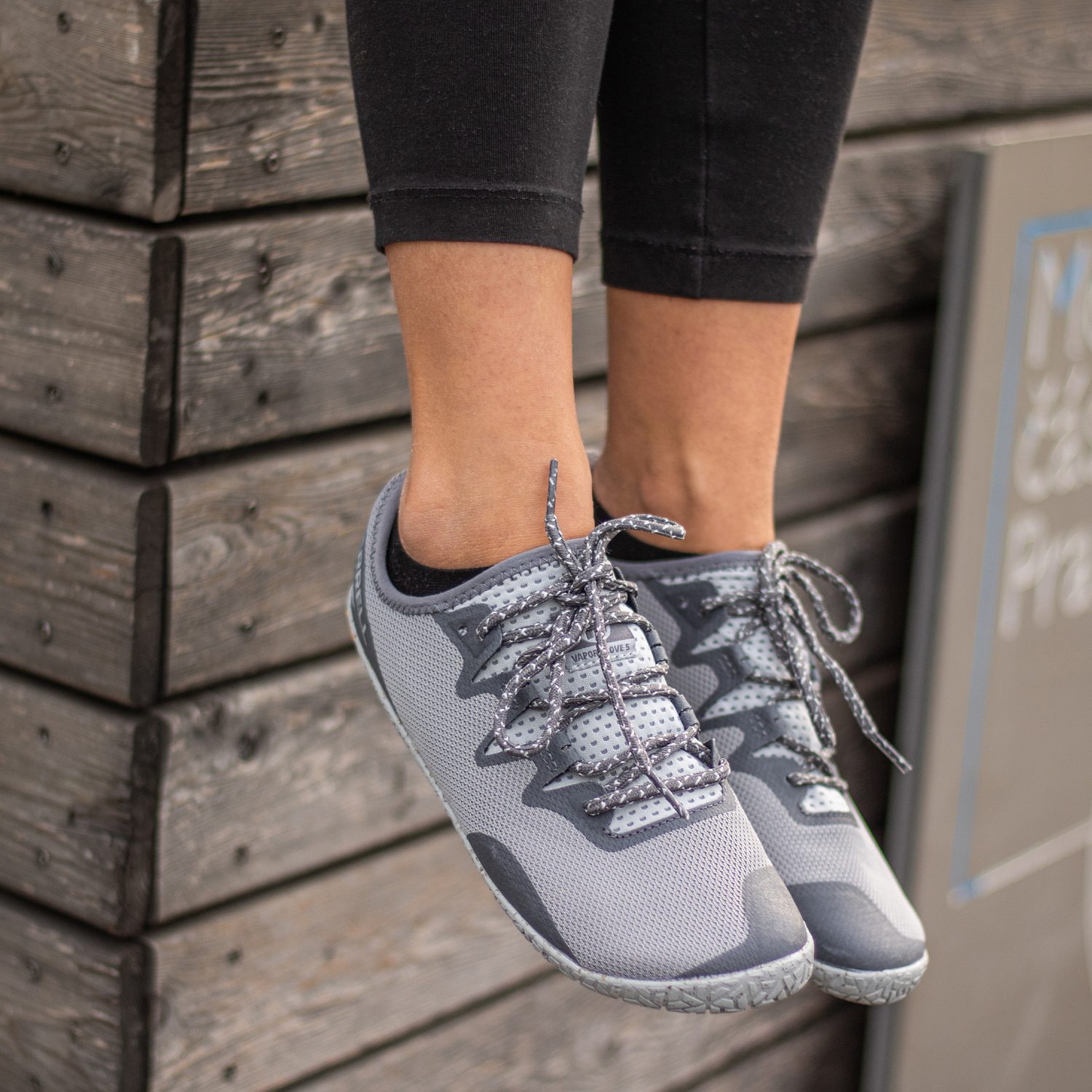 Sooner or later, a tricky question comes up when you choose your running shoes: what about cushioning? Barefoot shoes don't have any, will my knees suffer? The answer is: no. If you stick to the recommendations on how to start running in barefoot shoes and if you will listen to your body, then no.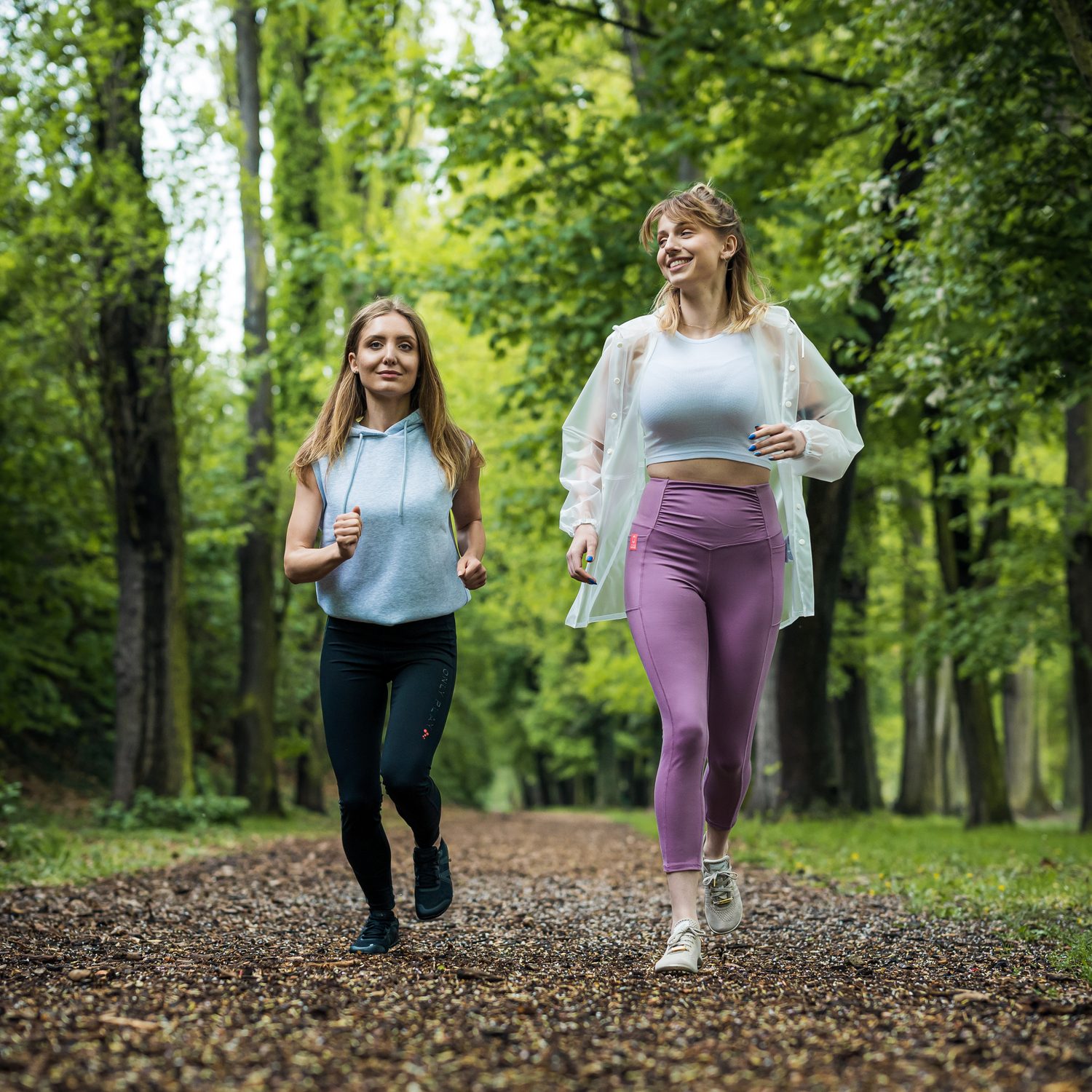 How Is Running in Barefoot Shoes Different from Classic Footwear
First and foremost – it's natural. Yes, it's different: you feel the surface you're running on – every pebble, every bump. But your shoes will let you feel the terrain more and you'll focus on the sensation of your body. So, it's different, better. Barefoot allows you to harness the power of your entire foot, right down to your toes and teaches you to run and land naturally, either on the toe or the entire foot.
Still hesitating? Check out our range of running shoes. They'll convince you.

TIP: For an even more intense motion experience and improved blood circulation and foot movement, use Sensomotor Insoles. After your training, enjoy a few minutes of relaxation with the Neuro Neuro Ball or Recovery Socks.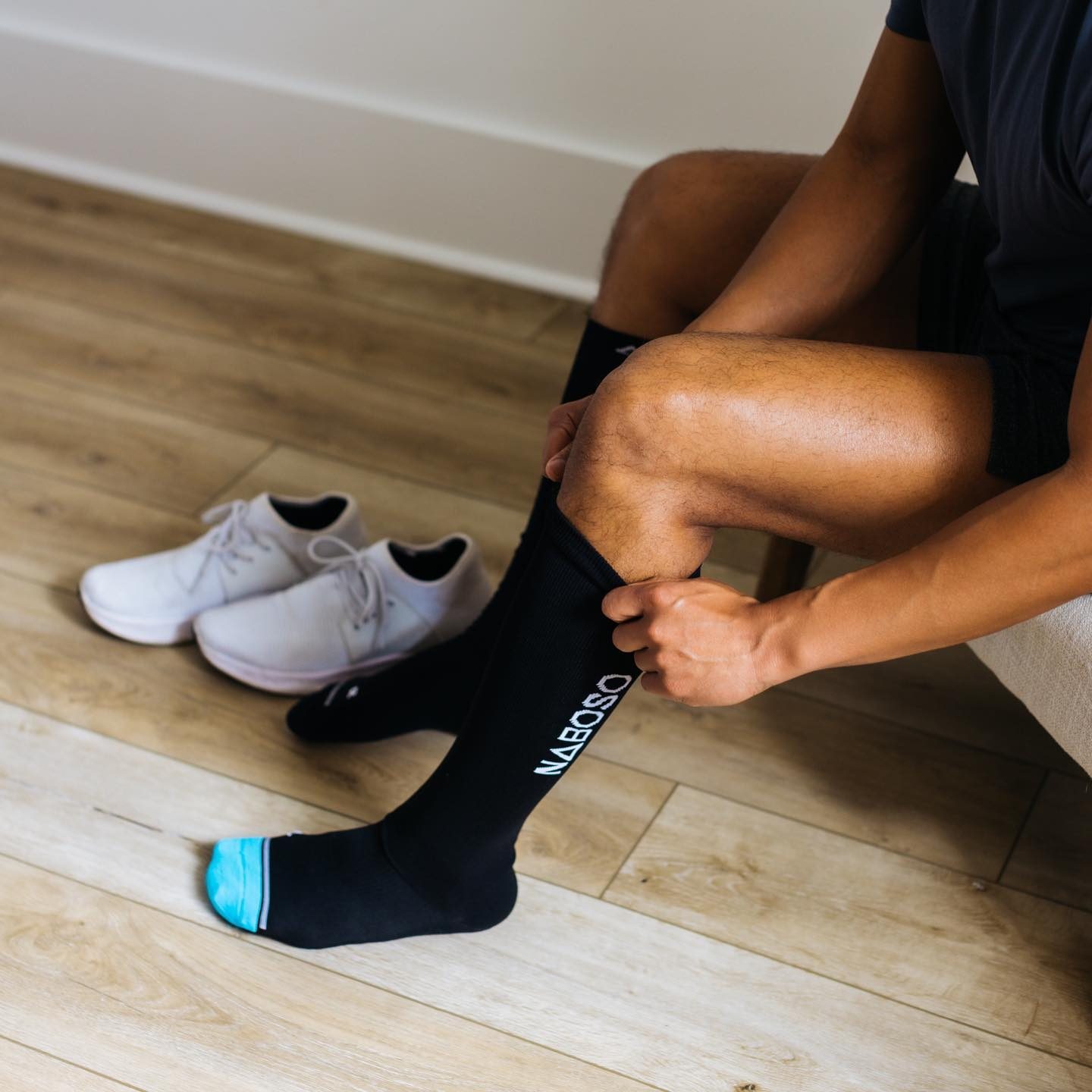 Where will your footsteps lead next?