BEDA
BEDA SNEAKERS NUBUK OCEAN SHINE
Accessories: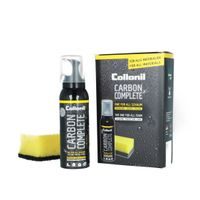 CARBON COMPLETE 125 ml
10.2 €
Product description
BEDA SNEAKERS NUBUK OCEAN SHINE
The Beda Ocean Shine is a leather barefoot sneaker that's ideal for the city and for trips to the nature. The shoes are lightweight, flexible and allow natural movement and development of the child's foot, like walking barefoot.
urban walking shoes
children's shoes, girls
seasons: spring, summer, autumn
Cut – wide / comfortable
fits average to wide feet
suitable for feet with toes in line
suitable for average to lower instep
zero drop - heel and toe are flush
lightweight and flexible
fits wide heel and ankle
Material - brushed leather / rubber
uppers: brushed leather
lining: membrane
insole: removable textile insole
sole: rubber
fastening: two Velcro fasteners
How to take care of your shoes
always clean coarse dirt first with a brush
wipe shoes with a damp cloth and dry well
do not wash shoes or dry them close to a heat source
you can easily clean brushed leather and suede with a special rubber cleaner
to increase the durability of you shoes, treat them regularly with impregnation spray
leather will last a long time with proper care
How to choose the right size
Measure the size of your children's feet and add an extra space of 9–12 mm for a comfortable fit.
Beda size chart
Sizes EU
21
22
23
24
25
26
27
28
29
30
31
32
33
34
35
Inner lenght (mm)
130
139
144
150
158
164
171
178
184
191
198
205
211
220
225
Inner width (mm)
62
64
66
68
70
72
74
75
76
78
80
81
82
83
84
If you are not sure about the right size, stop by our store.
Product parameters
| Parameter | Description |
| --- | --- |
| Foot width | Regular, Regular wide, Wide |
| Features | Leather, Made in Czechia, Water-resistant, With membrane |
| Use | City |
| Color | Blue |
| Season | Autumn, Spring, Summer |
| Category | Sneakers |
| Material | Suede / velour |