SALTIC OUTDOOR HIGH Red
160.0 €
132.2 € without VAT
---
Description and parameters
SALTIC OUTDOOR HIGH Red
Ankle leather barefoot boots are equipped with a special summer SALTI-TEX membrane. Thanks to the rubber protection around the shoe, they can withstand even in challenging conditions and you can wear them both in the jungle of the city and on a trip to the mountains. They'll protect your feet and ankles while still allowing them the freedom of movement you'd get when walking barefoot. If you're looking for a winter option, try the VINTERO EASY. A stylish shoe bag is included.
unisex shoes for city and nature walks

ethically produced with 100% handmade in the Czech Republic

seasons: spring, autumn, winter
Cut – wide / spacious toe box
suitable for wide feet
spacious toe and instep area
suitable for dominant toe
zero drop
thin and flexible sole
Material – brushed leather / 3.7 mm sole
upper: brushed leather
lining: functional SALTI-TEX membrane
sole: 3.7 mm flexible Vibram sole
rubber strip around the shoe for better protection
closure: laces
How to take care of your shoes
always clean coarse dirt first with a brush
wipe shoes with a damp cloth and dry well
do not wash shoes or dry them close to a heat source
you can easily clean brushed leather and suede with a special rubber cleaner
use foam to clean, nourish and impregnate shoes with membrane
to increase the durability of you shoes, treat them regularly with impregnation spray
leather will last a long time with proper care
How to choose the right size
Measure your feet and add an extra space of 5-10 mm for a comfortable wear.
If you are not sure about the right size, stop by our store.
Parameters
Foot width

Regular

,

Regular wide

,

Wide

Features

Leather

,

Handmade

,

Made in Czechia

,

Water-resistant

,

With membrane

Use

City

,

Outdoor

Color

Red

Season

Spring

,

Summer

,

Autumn

Category

Sneakers

,

Ankle

Sole (mm)

3
Brand Saltic

SALTIC barefoot obuv vznikla na základě více jak čtvrtstoletí historie a zkušeností obuvníků ve Zlíně. Vždy dbáme na kvalitu a preciznost námi ručně vyrobeného páru.
Choď bos a buď boss!
---

Od "lezeček" k bosobotám
Na světovém outdoorovém trhu působíme již 29 let s výrobou horolezecké a trekové obuvi. Vyrobit barefoot boty bylo pro nás výzvou, kterou jsme přijali. Speciální technologie, která je nám vlastní i při výrobě lezecké obuvi, vznikly první modely FURA a všechny nás překvapila jejich lehkost a pro nás netradiční styl a pocit volnosti.
Zcela opak lezeček.

V současné době jsou v nabídce modely FURA v nejrůznějších designech včetně veganských, baleríny ARWEN, zateplené VINTERO s membránou, OUTDOOR – bez zateplení s membránou na VIBRAM podešvi, sandály FLY.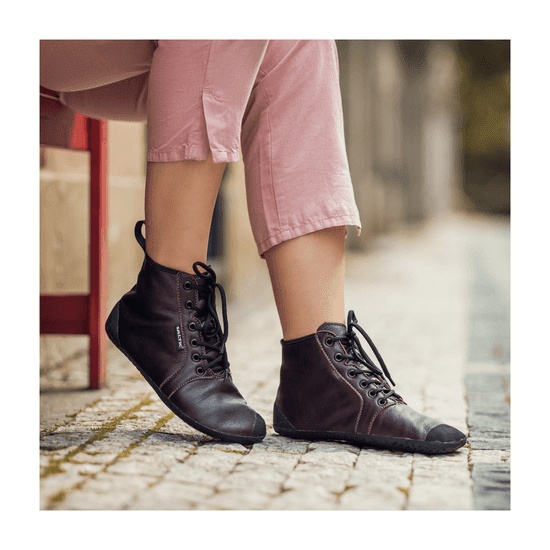 Speciální barefoot podešev
z plotny – Extasy Fix
Při vývoji této směsi jsme vycházeli z mnohaleté praxe v horolezení, kde jsou nároky na vlastnosti podešve a gumy nadstandardně vysoké. Naše boty s touto podešví jsou skvělou kombinací perfektní přilnavosti, citlivého došlapu a jedinečného komfortu při každém kroku. 
Na Saltic modely používáme naši vlastní podešev Extasy Fix v tloušťce 3,5 mm. Tato speciální gumová směs byla našim týmem vyvinuta a vylisovaná výhradně pro potřeby barefoot bot.

Vibram podešev u OUTDOOR a RUN modelů
Tyto dva modely, které jsou novinkou jarní sezóny 2022, jsou vybaveny speciální VIBRAM podešví o tloušťce 3,7 mm.Díky této mimořádně tenké podrážce si v nich dokážete užít ještě větší pohodu, vnímat terén plnými doušky a cítit komfort z přirozeného pohybu.

Proč Saltic barefoot?
Pro jedinečnou technologii 100% ruční práce našich obuvníků, šiček, vysekávaček – prostě všech, kteří se tady u nás ve Zlíně na výrobě podílejí. Pro patentovaný způsob výroby a zpracování podešví z gumových ploten, nebo svršku v kombinaci s gumovými prvky. Pro úžasný pocit svobody a volnosti hned při prvním nazutí. Pro širokou škálu barev, materiálů, designů, modelů. Pro podporu českého výrobku. Pro kompletní servis, vstřícnost a ochotu vyhovět požadavkům, které jsou na nás kladeny zákazníkem.
template.last-viewed-products