Color:

XERO SHOES 20 JESSIE W Coral
Accessories: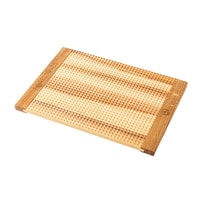 FORESTONES massage mat
77.6 €
Product description
XERO SHOES 21 JESSIE W Black
The Jessie sandal is as fun and multi-faceted as you are. 
Cute enough to pair with your favorite outfit.
Rugged enough to pull out of your backpack and use as a camp shoe.
Eye-catching enough that you may not make it down the street without someone stopping you to chat.
With its simple toe strap and secure, Velcro ankle strap, the Jessie will let you do whatever you want to do.
It's meant to be a casual sandal, but if you have to break into a quick sprint, it'll handle that, too.
Why "Jessie"?
Our product designer's wife, Jessie, used our DIY sandal kit to develop the design that inspired this sandal, and we're proud to honor and thank her for it with this namesake sandal.
More reasons you'll love the Jessie
Lightweight and travel-friendly — a women's 7 is only 4.8 ounces each and the Jessie can roll up and fit in your pocket or pack
Natural — with a flexible 5.5mm FeelTrue® sole, you get a great combination of protection, plus the ground feel that your brain needs to let your body move optimally
Durable — like all Xero Shoes, the Jessie is backed with our 5,000-mile sole warranty
Vegan-friendly
Trim-able for a custom fit
Size Table for Jessie
| US | EU | Templates |
| --- | --- | --- |
| 5 | 35 | Print the template |
| 6 | 36 | Print the template |
| 7 | 37 | Print the template |
| 8 | 38 | Print the template |
| 9 | 39 | Print the template |
| 10 | 40 | Print the template |
| 11 | 41 | Print the template |
If you are printing a template, make sure you have the print scale set to 100%, otherwise the size will not match.
Product parameters
| Parameter | Description |
| --- | --- |
| Sex | Woman |
| Vlastnosti | Recycled, Vegan |
| Use | City, Outdoor, Sport, Water friendly |
| Color | Black |
| Season | Autumn, Spring, Summer |
| Category | Sandal |