Product description
ANGLES FASHION PYTHAGORAS EV Coffee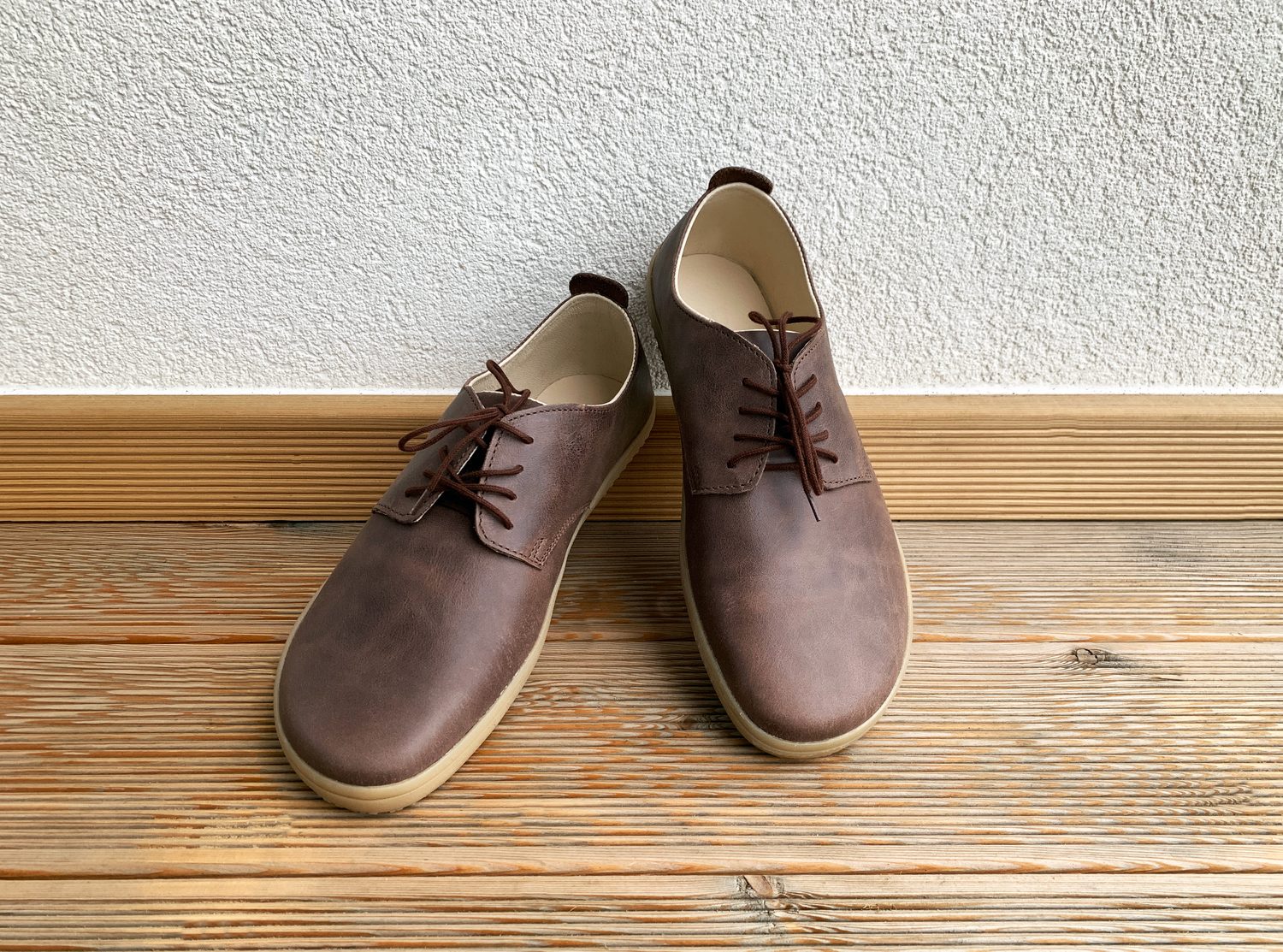 Pythagoras EV are all-purpose leather shoes, hand-sewn in Czech Republic.
The shoes are made from top-quality leather and materials with EU origin only. They were long developed in cooperation with Tomas Bata University in Zlin based on the analysis working with a large sample of Czechs measured feet.
Pythagoras EV barefoot shoes have a very original character that is besides a true design enhanced by an untraditional surface working of leather.
The inside is pleasant, all-leather and with no threads visible, thus cracking or seam loosening, that can be caused by the contact with feet and rubbing, are out of the game. Angles from inside, that is the quality at second sight. Beautiful and clean.
Specification of Angles Fashion Pythagoras
Shape: wide - a lot of space for toes
Upper: hověziny - cowhide
PInside: cowhide
Outsole: Rubber 3 mm.
Zero drop
Sizes: 37 - 42 a 41+ až 46+
Weight
Use: Urban walking shoes
Sex: Woman, Man
Care: Keep your shoes clean, use Renapur and Carbon Pro for impregnacion. 
Roční období: Jaro, Léto, Podzim
Size table Angles Pythagoras

Size EU
37
38
39
40
41
42
 
 
 
 
Inside length (mm):
245
252
259
265
272
279
 
 
 
 
Inside width (mm):
92
93
95
97
98
100
 
 
 
 
Size EU
 
 
 
 
41+
42+
43+
44+
45+
46+
Inside length (mm):
 
 
 
 
275
282
288
293
299
306
Inside width (mm):
 
 
 
 
102
103
104
105
106
107
Product parameters
| Parameter | Description |
| --- | --- |
| Sex | Men, Woman |
| Vlastnosti | Hand made, Leather, Made in Czechia |
| Use | City |
| Color | Brown |
| Season | Autumn, Spring, Winter |
| Category | Low shoe |