Accessories: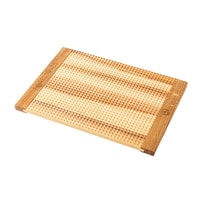 FORESTONES massage mat
77.6 €
Product description
XERO SHOES 21 CASSIE W Black
Super Cute. Super Comfy.
Xero brings our Natural Movement fun and feeling to a "MaryJane" style shoe for women — the Cassie.
The Cassie, like our other casual canvas shoe, the Hana, is built for fun. We don't recommend running ultra marathon in the Cassie, but high-performance FeelTrue® rubber sole, some of you will do more in the Cassie than just wearing yours for work, or hanging out, or a night on the town.
What you'll love about the Cassie
It's what makes all our Xero Shoes special — we believe in feet! Your feet are supposed to bend, flex, and feel the world. The Cassie lets you do that.
Natural FIT — the wide toe box lets your toes spread and relax. Plus the "XERO-drop" sole (non-elevated heel and low-to-the-ground) allows for proper posture, balance, and agility.
Natural FUNCTION — the flexible Cassie lets your feet bend, move, and flex the way that feet are supposed to. Plus, they're so light, you might forget you have them on. A woman's size 7 is only 6 ounces each.
Natural FEEL — the Cassie uses the 5.5mm FeelTrue® rubber sole. That means you get protection while still letting you feel the sensations that your feet want. If you need a bit of extra protection, just toss in the 2mm insole that comes with your pair.
Vegan-friendly materials — the Cassie has a canvas upper, with a cotton lining and microfiber accents. You can wash it with soap and water.
Huarache-inspired design — the heel/instep strap adds a subtle, eye-catching call out, but it's also functional, holding your heel and cinching up around your instep.
Flexible heel — you can step on the heel and wear the Cassie as a slide
Size Table for Xero Shoes CASSIE

Size US
W5.5
W6.5
W7.5
W8.5
W9.5
W10.5
Size EU
36
37
38
39
40
41
Inner lenght
 
 
 
 
 
 
Product parameters
| Parameter | Description |
| --- | --- |
| Sex | Woman |
| Vlastnosti | Recycled, Vegan |
| Use | City |
| Color | Black |
| Season | Autumn, Spring, Summer |
| Category | Ballerina |