AYLLA BAREFOOT TIKSI M Turquoise
147.3 €
121.7 € without VAT
---
Description and parameters
AYLLA BAREFOOT TIKSI M Turquoise
Cooler days will never surprise you in the Aylla Tiksi. It's a higher ankle boot that fits perfectly around the ankle and keeps you warm even in comfortable roomy boots. Tiksi means country in Quechua. Let's keep our feet firmly on the ground with barefoot shoes.
AYLLA SHOES is a Czech barefoot brand that is known for honest handmade production and maximum durability. The soles of their shoes are glued and sewn at the same time and in combination with the quality cast leather from which the shoes are made they can withstand almost anything.
men's shoes
urban walking shoes

seasons: spring, autumn
Cut – wide / comfortable
thin and flexible sole
enough space for fingers
Material – leather / 4mm rubber
upper parts: leather

lining: anti-allergenic fabric with nanofibres

sole: 

4 mm rubber made of recyclable TPR (thermoplastic rubber)
closure: laces
How to take care of your shoes
always clean coarse dirt first with a brush
wipe shoes with a damp cloth and dry well
do not wash shoes or dry them close to a heat source
to increase the durability of you shoes, treat them regularly with impregnation spray
leather will last a long time with proper care
natural balm will give your leather shoe a longer life and a nicer appearance
How to choose the right size
Measure the size of your feet and add an extra space of 5–10 mm for a comfortable fit.
If you are not sure about the right size, stop by our store.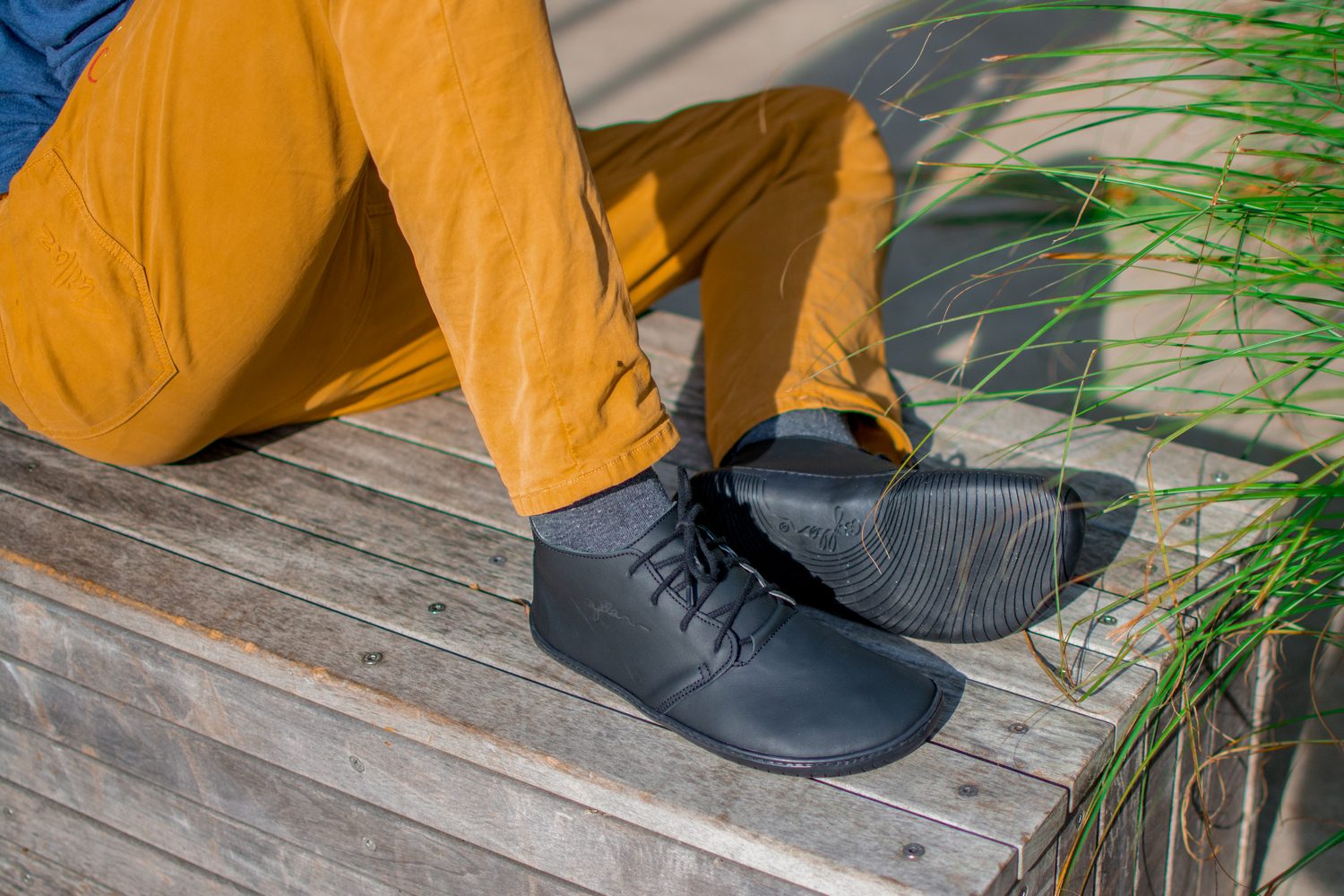 Parameters
Foot width

Regular

,

Regular wide

,

Wide

Features

Leather

,

Handmade

,

Made in Czechia

Use

City

Color

Turquoise

Season

Spring

,

Autumn

,

Winter

Category

Ankle

Material

Smooth leather

Sole (mm)

4
Brand Aylla barefoot

Na trhu s obuví nám chyběly boty respektující tvar chodidla, které nohám dopřejí svobodu, ale zaujmou i svým pěkným minimalistickým designem a univerzálním využitím. Chtěli jsme změnit význam pojmu "normální" boty a rozhodli jsme se udělat krok trochu jiným směrem. Vytvořili jsme tak naši Ayllu, boty, které mění současná pravidla obouvání.
---
Pohodlí a svoboda pro nohy
Veškerý pohyb se děje ve spojení se Zemí. Začíná od nohou. Svobodný pohyb však vyžaduje minimum překážek. Aylla shoes jsou boty, které nechávají nohám svobodu pohybu a umožňují jim plnit svoje přirozené funkce. Noha se od přírody umí pohybovat efektivně na všech površích a tlumit nárazy, je schopná termoregulace. Jen jí to nesmíme zakazovat – zavírat ji do úzkých špičatých a tvrdých bot s vysokou tuhou podrážkou.


Propojení s přírodou

Ayllu je slovo z jazyka Inků vyjadřující komunitu, širší rodinu. Inkové pro nás splňují představu idylického života spojeného s přírodou tělem i duší. Proto i modely našich bot jsou pojmenovány kečuánsky, tedy jazykem Inků, např. Tiksi a Nuna znamenají Země a Duše. Inkové byli spjati s přírodou, a i my se cítíme v našich botách nohama na zemi, kterou vnímáme s každým krokem.
Příběh 3 srdcí

Jsme tři. Ve spoustě věcí jsme naprosto rozdílní, a proto se můžeme skvěle doplňovat. Každý se v Aylla věnuje tomu, co je mu nejbližší.
Honza, lezec tělem i duší. Provozuje dvě lezecké stěny, věnuje se se ženou a s partou kamarádů lezeckým tréninkům dětí. V Aylle má na starosti výrobu a vývoj bot.
Aleš, majitel grafického studia. Má na starost marketing a propagaci. Z dílny studia jsou pak všechny Aylla katalogy, fotky i videa.
Standa, obchodník každým coulem. S radostí objíždí svět, potkává nové lidi a všude a všem nabízí naše boty.
Materiály & výroba
Pohodlí a svoboda pro nohy
Celá bota se vyrábí v České republice, šijí ji obratní čeští ševci, co se pevně drží svého kopyta nedaleko Pardubic. Všechny materiály se skutečně vyrábí (nejen pouze dováží) v EU. Věděli jste, že tur domácí není zabíjen pro kůži? Použití kůže je v podstatě zpracování odpadu. V dnešní době hodně hovězích kůží končí ve spalovnách, proto jsme rádi, že alespoň část poslouží k dalšímu zpracování.
Naše poslání

Baťa svět obouval, my bychom ho chtěli přezout
. Přezout do bot, které respektují tvar lidské nohy a nijak ji nedeformují. Pracujeme na změně smýšlení lidí nejen o zdraví nohou, ale celého těla, protože v lidském těle vše souvisí se vším.